Back
Race 5. Transatlantic Race Leg
Halifax - Le Havre
31st Jul 2017 - 2nd Sep 2017
Join the boat on the 1st August for the final race of this transatlantic challenge. Be a part of the crew to race Tall Ship Maybe back across the Atlantic Ocean to Le Havre, France. Arrive in Le Havre on the 31st August, and expect a very warm welcome. Enjoy the festivities in the final host port of the Rendez-vous 2017 Tall Ships Regatta. Disembark 2nd September.
Embarkation:
Monday 31st Jul 17
Disembarkation:
Saturday 2nd Sep 17
Days Sailing:
30
Days in Port:
3
Vessel:
Blue Clipper
Price
Under 25's:
£2400.00
Adult:
Twin en-suite Cabin
£3000.00
Luxury Suite
£6368.00
Enquire
Book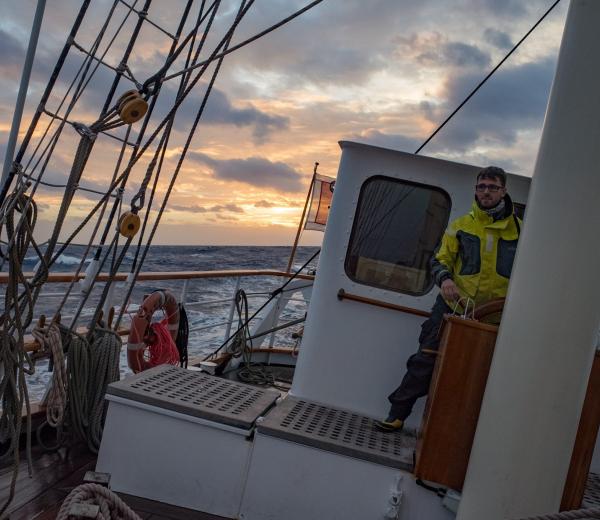 Festival Days:
1st Aug: Halifax Parade of Sail
31st Aug: Le Havre Opening Ceremony
1st Sept: Le Havre Crew sports and activities, crew parade, crew party
Join Maybe Sailing on board Tall Ship Blue Clipper for this amazing Transatlantic adventure. Follow in the footsteps of the great explorers sailing 7000 nautical miles across the Atlantic Ocean. Sailing from Halifax, the largest city in Atlantic Canada to Le Havre, France.
HALIFAX, CANADA

Halifax is the largest city in Atlantic Canada. It marries rich maritime history with a modern energy to welcome vessels and visitors with the best of old and new. Against the backdrop of a bustling commercial harbour, Halifax is proud to host the grand Tall Ships again. It has also received numerous awards, including Port of the Year.
The city's historic waterfront is anchored by one of the world's longest urban boardwalks – home to small local businesses, farmer's markets, adventures by land and sea, and North America's oldest saltwater ferry system. The Tall Ships Regatta will showcase the best of Nova Scotia through music, culinary, historical and family friendly experiences on both sides of the harbour and in outport communities around the province.
Important Information
Getting There
Nearest Airport: Halifax Stanfield International Airport (298km)
Currency
Canadian Dollar
VISA requirements:
An ElectronicTravelAuthorization (eTA) if travelling to or through Canada by air. You need to apply online atwww.cic.gc.ca/english/visit/eta.asp. An eTA costs C$7 and is valid for five years or until your passport expires, whichever comes first.
LE HAVRE, FRANCE

Le Havre is the final port of Rendez-Vous 2017 and it'll close the prestigious event in dramatic style. It's the largest city in Normandy, France and the biggest container port in the country. It was built on the estuary of the River Seine by King Francois I, who decided to establish a harbour and walled city in 1517.
During summer 2017, Le Havre will celebrate it's 500
th
anniversary. This major cultural event will infuse the city and its harbour with artworks in public areas, landscaping, prestigious exhibitions, festive gatherings, gastronomic delights and more.
Important Information
Getting There
Nearest Airport: Paris Charles de Gaulle (215km)
Currency
Euro
VISA Requirements
For EU citizens, Canadians, Australians Visas are not required for stays of up to six months.
What is included in the price?
All meals and accommodation when sailing. Meals are cooked by our on board cook.
Breakfast and accommodation when in port (all trainees under 18 are chaperoned when in port by a crew member or liaison officer. They will be taken to nearby catering establishments when they can acquire reasonably priced food during the port stay. This is usually 2 lunches and 2 main meals).
Sailing instruction and supervision by 6 experienced crew
Third party liability insurance cover
What is not included?
Travel to and from the boat
Personal Travel insurance
Lunch and Dinner whilst the boat is in port
Optional sightseeing and cultural tours in port
Maybe Sailing trainee crew kit
VISA fees
Hire of waterproofs